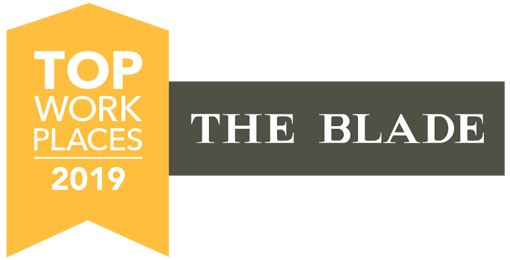 For the third consecutive year, The Blade has ranked Savage and Associates among the Top Workplaces in the Toledo region. In 2019, The Blade recognized 45 companies and organizations for the annual honor based on feedback collected from thousands of area employees.
Toledo area public, private, nonprofit, and government organizations that employ 35 or more people are eligible to take part in the Top Workplaces contest. Savage has been recognized in each year it has participated.
"For decades, the employees and the advisors of Savage have known that it's a great place to work," says Elizabeth Harmon, the company's practice development and recruitment director. "Getting this recognition means that the rest of the community knows, too."
As in past years, The Blade partnered with Energage Media Partnerships to conduct the workplace poll. Workers for nominated employers were invited to complete a 24-question survey about their companies.
"Top Workplaces rewards employers that work hard to build a healthy workplace culture," says Energage's director Bob Helbig. "It's good for morale, and it's good for business."
Learn more about what being one of Toledo's Top Workplaces means to us by watching this video.
Third-party rankings and recognition are no guarantee of future investment success and do not ensure that a client—or a prospective client—will experience a higher level of performance or results. The rankings mentioned on this web page should not be construed as an endorsement of the advisor by any client, nor are they representative of any one client evaluation.