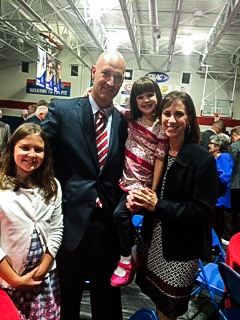 St. Francis High School in Toledo, OH  has a tradition of celebrating athletes and service-oriented successes.  On October 27, 2016, Savage & Associates advisor, Damian Ogrodowski was selected to be inducted into the school's Hall of Fame.
Inductees are chosen from former athletes who demonstrate leadership and serve as role models for students.  They are nominated by alumni and friends of St. Francis.  Damian was chosen for his service, athletic excellence, and community involvement.
Damian's daughter Lily was the highlight of the evening, giving an incredible introduction speech for her Dad. Her clear and composed words impressed the crowd of 350.
Among Damian's accomplishments as an athlete, he is tied for #1 spot all time for total varsity letters at St. Francis. He was a standout student athlete and represented Savage and Associates extremely well.
Savage & Associates sponsored a table for the event and several associates attended along with President and CEO, JR Toland.