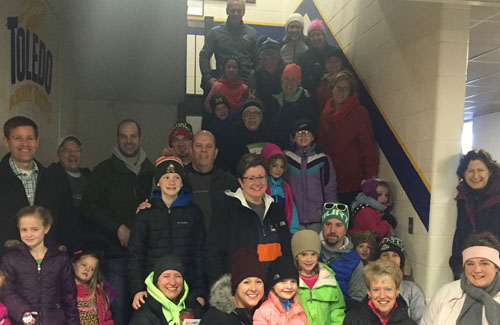 On Sunday, April 10, 2016 an unexpected surprise awaited our Savage "Sisters with Soule" team who ventured to the University of Toledo to walk in the Annual Walk for MS. When the team arrived, they found out that the 5 mile walk route was cancelled due to the weather conditions. Who would have thought we'd get the biggest snowfall of the season the day before? Since the walkers were still willing to brave the weather conditions and complete the walk,  officials decided to allow participants to walk a one mile route on campus grounds instead of the 5 mile route.
Some of the "Sisters" decided that one mile was not enough, so they walk the route more than once . But, by the entire team finished, the snow was falling pretty good. The weather was tough, but it brought to mind the obstacles that people who suffer from MS face daily.
Donations are still coming in but in the end, our Sisters with Soule team will have raise upwards of $3500 for the MS Society. Savage employees alone have donated over $2500, which will be matched by the company. The team spokesperson, Laura Fulop has lead this event for the past several years and is extremely grateful and proud on how supportive her co-workers are in helping to find a cure for Multiple sclerosis.