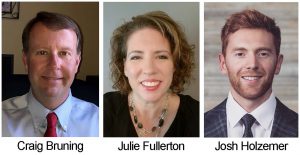 Savage and Associates announced the addition of three advisors to its team, bringing the total number of associates to its highest level in company history:
Craig Bruning, financial professional
Julie Fullerton*, benefits advisor
Joshua Holzemer, employee benefits consultant
"More than ever, Savage has the resources to service clients to a wider area and through a larger scope with the addition of Craig, Julie and Joshua," stated J.R. Toland, president and CEO, Savage and Associates. "They each have a unique skill set and expertise that will provide great value to our clients."
As part of his responsibilities, Bruning will assist clients in a holistic way through investments, risk management, and group health. Fullerton has more than 15 years of experience in health insurance, specializing in Medicare supplements and individual health insurance. Joining his father's practice, Holzemer will primarily focus on employee benefits, in addition to offering investment services and individual strategies.
Founded in 1957, Savage is a full-service financial, insurance, and group benefits services firm partnering with clients across the nation.
(* Julie Fullerton is not affiliated with Royal Alliance Associates, Inc.)