Is history repeating itself? Are we in the midst of another Great Recession?
The last three weeks have been intense in the stock market. On Thursday, March 12 and Monday, March 16, we've seen drastic declines. It's difficult to see the silver lining in the market when the headlines are just as terrifying as the unknown of our investment returns. We haven't seen the markets act in this manner since 2008-09.
Are we repeating history, and at the start of a recession? The short answer: no. Let's talk about why …
To begin, I don't think I could write a comparison better than the one USA TODAY published last week: https://www.usatoday.com/story/money/2020/03/11/recession-heres-how-coronavirus-crises-different-2008/5012228002/
If you read their article and still want my perspective, read on!
As financial advisors, we look to different measurements to gain insight as to what the future of our economy and the market may hold. Without boring you with an economics lesson, I would like to give an overview of just two of them: gross domestic product (GDP) and the consumer price index (CPI).
With respect to our country's GDP, consumer spending is its key driver. If we look at how the stock market ended in 2018, we were down about 20 percent. Therefore, it must mean a recession followed, right? Fortunately for everyone, that was not the case as we saw tremendous returns in 2019.
So how did the stock market get it wrong? We knew the noise of daily news was causing concerns of trade wars and a government shutdown to investors. In times of uncertainty, volatility increases. Despite the everyday investor seeing significant losses in their investment accounts, Christmas-time consumer spending was up 19 percent from the previous year! This shows us that drastic changes in the market did not translate to drastic changes in consumer behavior. Our country's current GDP is more than 2 percent. Until we hit GDP of 1 percent, I am confident with our country's growth.
Another key factor is understanding the CPI. If you look at the chart below from the Bureau of Labor Statistics, you can see that once the CPI reaches 4 percent, a recession is quickly on the horizon. The CPI is currently in the mid to low twos. We haven't reached the threshold and we shouldn't assume the coronavirus is a catalyst for a recession.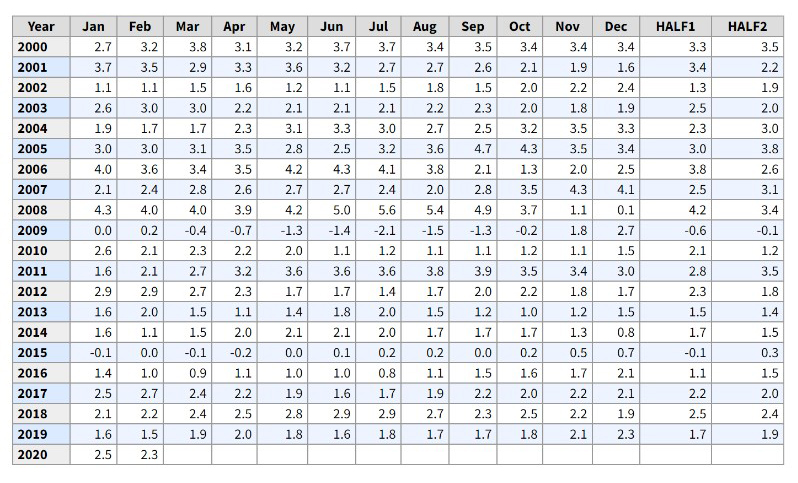 *Source: Bureau of Labor Statistics
Health care providers, scientists, and the leaders of our communities are working diligently on preventative measures and access to care for the well-being of all. There is not a country more well equipped than America. Hysteria, uncertainty, and volatility will pass. It always does, and once that happens, our country's strong economic fundamentals will be restored just like they always do.
If you gain one takeaway from this: stay the course. What if in December 2018, you decided to get out of the market for fear of the negative markets to continue? You would have missed out on the positive returns that followed. While this uncertainty is uncomfortable, please stay safe and please choose to be hopeful.
About Megan:
Megan Rightnowar got into the financial services business almost five years ago to help individuals and families create a plan for financial freedom. She believes that money doesn't have to control your life and she helps people live that out.  As an extension of her love for educating clients, she enjoys writing blog posts covering a myriad of financial topics. Megan also teaches finance and personal planning for pharmacy students at the University of Toledo.
*Investing involves risk including the potential loss of principal. No investment strategy can guarantee a profit or protect against loss in periods of declining values. Past performance is no guarantee of future results.
Securities and investment services offered through Osaic Wealth, Inc., member FINRA/SIPC. Osaic Wealth is separately owned and other entities and/or marketing names, products or services referenced here are independent of Osaic Wealth.